| | |
| --- | --- |
| | |
Schedule: December 1(Sat)-2(Sun), 2018
Organizer: New Technology Foundation
Co-Orgnizer:TOKYO POLYTECHNIC UNIVERSITY
Executive committee: Chairman Prof.Hidekazu Suzuki (Tokyo Polytechnic Univ.)
Cosponsor: Ministry of Economics, Trade and Industry. Ministry of Education, Culture, Sport, Science and Technology, The Society of Instrument and Control Engineers, The Japan Society of Mechanical Engineers, The Robotics Society of Japan(tentative)
Gold Sponser:(in preparation)
Sponsored by:(in preparation)
Mediasponsor:(in preparation)
Awards is offered by:(in preparation)



Tentative Schedule:

December 1(Sat):

13:00 - 17:00 Test run
17:30 - 20:00 Mouse Party



December 2(Sun):

08:40 - 09:30 Registration
09:00 - 10:00 Robotrace inspection
09:30 - 09:50 Opening Ceremony
10:00 - 16:00 Robotrace Contest
10:00 - 15:00 Classicmouse Contest
10:30 - 12:30 Micromouse Contest Semifinal
12:10 - 12:20 Micromouse Contest Final inspection (place your mouse by 12:00)
12:30 - 16:00 Micromouse Contest Final
16:20 - 17:20 Technology Exchange Meetings
17:30 - 18:30 Awarding & Closing Ceremony
Entry deadline : November 4(Sun), 2018 JST.
Technical sheet deadline: November 4(Sun), 2018 JST. (same day)
Important Notice about contest
Regarding the future of Micromouse Contest and All Japan Contest
In order to be Micromouse Contest more attractive, we will adjust and change the names of each Contest and set up participation qualification to the All Japan Contest.



1. Changing the name of Contests

From the year 2018, we will change the name of Contests and operate the next 3 game events in All Japan Contest.
Also we will abolish prior classification (expert class, freshman class).



Micromouse Contest *ex: Micromouse (Half size) Contest
Classicmouse Contest *ex: Micromouse Classic Contest
Robotrace Contest





2. Operation of All Japan Contest

We will operate each Contest in All Japan Contest as follows.



Introduction of participation qualification system

Completion record holders of each regional Contest in Japan of the year will be able to participate in All Japan Contest. However, when participation to regional Contest is difficult (such as participants from foreign countries), we examine participation qualification separately.
In the 39h All Japan Micromouse Contest (Micromouse 2018), participants from foreign countries can participate without participation qualification.



Abolition of preliminaries

Due to introduction of participation qualification, we will abolish preliminaries that we have done until previous year, and operate only finals.

Because of introduction of participation qualification and abolition of preliminaries, we will shorten 1 day in the schedule of All Japan Contest and operate 2 days for the time being.

We would like participants to understand and wrestle with constant passion to the new frame Micromouse.


Goal Position of Micromouse Contest
The 39th All Japan Micromouse Contest, Micromouse Contest goal infomation is as follows.
Micromouse Final
Size: 32x32
Goal area: (11,11) - (13,13)
Size of goal area: 3x3 cells
There is no pole in the goal area
Time: within 10 mins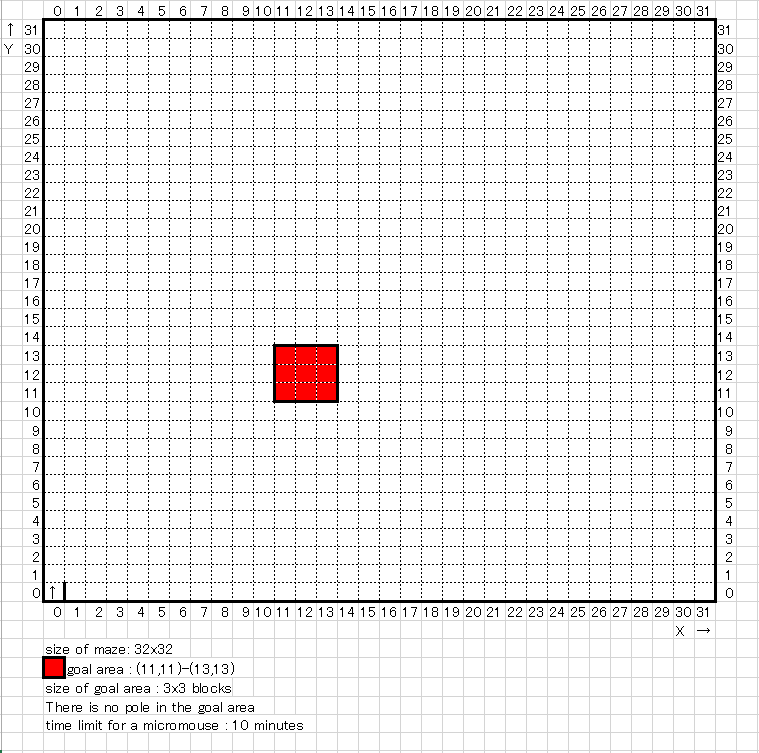 Hotel Infomation
Main Arena in Atsugi Campus, TOKYO POLYTECHNIC UNIVERSITY

Details of transportation
Rembrandt Hotel Atsugi
Hotel Vista Atsugi
R-bend Hotel Atsugi
Atsugi Urban Hotel
Contact
New technology foundation office
Address: Suehiro Bldg. 3F, Sotokanda 3-9-2, Chiyoda-ku, Tokyo 101-0021, Japan
TEL:+81-3-5295-2060
E-mail: mouse[a]ntf.or.jp(micromouse office)